2019 Health Tip Highlights
Wow.  Can you believe how fast 2019 has come and gone?
I swear, the older I get the faster time moves.
So much has happened in the world of health in 2019…
Counting calories and portion control is becoming a thing of the past
Low fat diets are out, high fat diets are all the craze and healthier in a lot of ways
Stress is finally getting attention for being the #1 contributor to weight gain
The importance of sleep has come into focus with the wide range of activity trackers on the market
On average, it takes almost 18 years for this type of new information to hit your doctor's desk; so more and more people are turning away from conventional medicine due to the lack of solutions and seeking more personalized care from functional and holistic health-minded professionals like myself.
As the (W)holistic Health Boss, my mission is to help keep you up to speed on the latest information, tips, tools and resources so you can find the missing pieces to your health puzzle and feel like yourself again or for the very first time.
This year, I've written over 42 blogs and hundreds of social media posts to educate and empower you about the right lab tests and resources you need to achieve your ideal health and weight.
But if you're anything like me, then life has surely been busy and maybe you've missed a few of the important things I had to share with you.
So to close out 2019, I've compiled the top tips and pieces of information I shared in 2019 in hopes that these will give you the insights you need to kick off 2020 with a healthy bang!
Even if you read them the first time, read them again. A new golden nugget of information just might jump out at you!
As you reflect on the year, take a moment to envision what you want for yourself and your health in 2020.
Do you want more energy?
To lose weight so you can feel great in your body again?
To finally put your digestive issues, anxiety or crappy nights of sleep to rest?
All so you can feel healthy, strong, free and limitless to be adventurous and live life to the fullest every day?
If so, then 2020 is your year.
I'm currently taking a limited number of clients and offering a 20% discount on all of my coaching packages for those who want to start 2020 strong with a personalized, yet strategic health-building plan that is realistic and produces long-lasting results.
Schedule a complimentary Ideal Health & Weight Discovery Session here to explore the possibilities.
And enjoy these top health tips from 2019!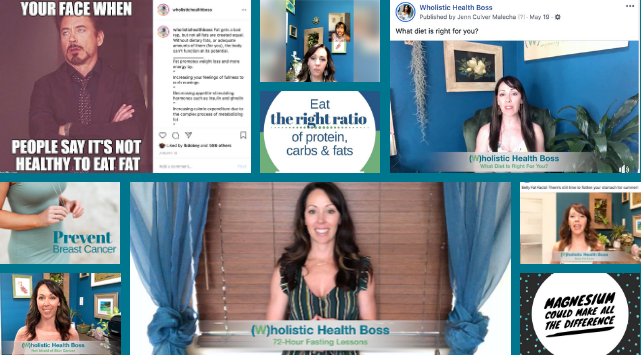 Top Blog Posts
Top Facebook Videos
Top Instagram Posts
Wishing you a happy holiday season and New Year!
Upcoming Events & Specials
20% Off Coaching Packages – FREE Consultation Session!
One conversation can change your life. During this FREE 45-minute session, I will devote my time to explore what's been going on with you, where your biggest healing opportunities are and what you should do next to take back control of your health and become your own health boss!
Let's explore the possibility of working together; and if we do, you'll save 20% off any coaching package!  Tell me a little about you and with what I can help. Fill out the form on the link below and get access to my calendar to schedule an appointment.