Demystifying Natural Health & Wellness!
We all know that knowledge is power in SO many different ways and aspects in our life.  The key to becoming your own health boss and empowering yourself is gaining as much knowledge as possible and using it to figure out what works for you and what is right for your body.
I don't claim to know all of the answers, but I am committed to learning and searching for them, which has made all the difference in how I have been able to restore my health and help others do the same.
One thing I do know for certain is that natural health and wellness approaches almost always outperform specific treatments.  I am an example of this, my clients are an example of this and a very special person I had the pleasure of meeting recently is a BIG example of this.
Jennifer Hudgens and I met a few months back at a local and very casual networking meeting.  We instantly connected over all things health and wellness related – her love for essential oils and my passion for functional health practices.
As we got to talking, Jennifer proceeded to tell me her health story.  She had suffered with a terrible back injury and was given little to no hope for a full recovery.  
Her doctors prescribed various medications to manage the pain, all of which barely put a dent in her suffering and left her feeling unlike herself.  
She was fortunate enough to connect with someone about essential oils, and with nothing to lose she decided to give them a shot.  She committed to using various oils every day and to her surprise, she experienced more relief than any pain medication had ever given her.o much, in fact, that she quit the meds altogether!
When I first met Jennifer, I would have never thought she ever experienced such pain, discomfort or such a serious injury before.  She is very much alive and thriving!
She, too, has seen the power of natural health and wellness, and like me has become very passionate about it and wants to help others become empowered with it.o she created the Demystifying Health & Wellness Interview Series.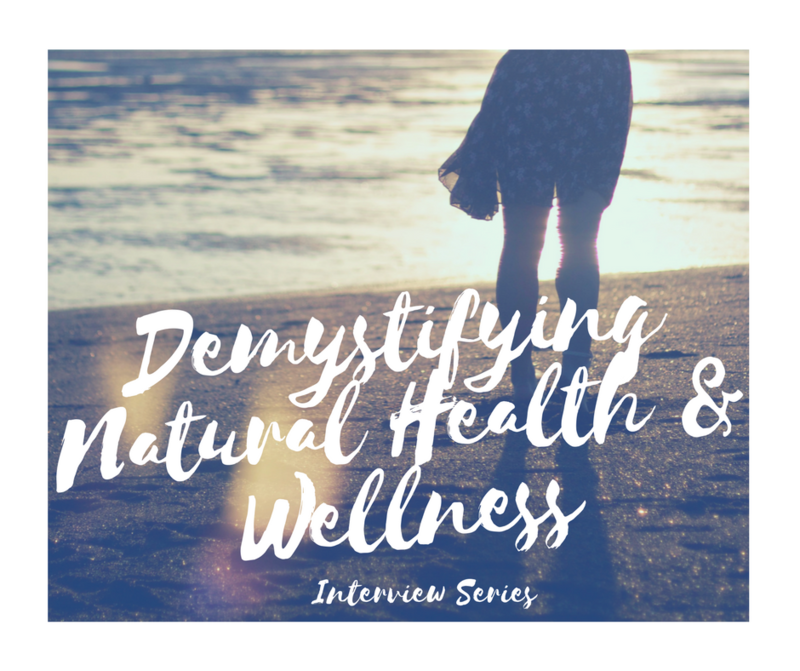 I was honored to be asked to be one of 21 amazing women interviewed for their expertise in natural health and wellness for her series. I am so excited to be a part of this series to spread the wealth of knowledge, and I am even more excited to share it with you.
Not only was I interviewed, but 20 other women in natural health and wellness were also!  The women range from massage therapists, to naturopaths, physician assistants, yoga instructors, skin care experts, pilates instructors,  and even physical therapist.  Each of them sharing their knowledge and wisdom for your benefit.
The best part is access to the interviews is completely FREE!!!
Just take a look at the line up of women and topics that are being covered in the interview series….
Nanci Tunley: Healing to speak your truth and live your purpose

Jenn Malecha: Autoimmune disease and how to take back control of your health

Molly Hamill: Finding your self-worth

Dr. Arezou Ghane: Mindfulness and changing our inner conversation

Emily Trott: Perseverance

Lauren Mahlburg: Nutrition and the great outdoors

Alisha Frank: Energy work and so much more

Stephanie Lane: Meditation and morning routine

Anna Ulmer: Coming alive through empowerment and mindfulness

Elizabeth Ensor: Healing your body naturally

Tina Ardolino: Yoga, Pre-natal, Post-natal – Follow your dharma

Stephanie Zito: Be aware of what's in your skin care

Jessica M Fray: Menstruation and women's health

Sarah Connor: Grounding energy work

Lee-Anne McCall: Homeopathy

Teresa Rodden: Women and Sobriety, It doesn't have to be a dirty word!

Emma Fashion: Dressing for Self-Worth and Confidence

Jessisa DeLuise: Eat Your Way to Wellness

Corry Lang: Emotional Health Coaching

Lauren Maniscalco: Core strength and why it's important

Katie D'Amato: Grounded to heal, empowered to move
The interview series will begin on Monday, October 2nd. Those who register for it will receive a new email with a link to the interview of the day every Monday through Friday through the end of October.
One of the best ways we can learn to solve our own health issues is to learn from other people's experiences.  As I learned in one of my transformational coaching training programs, "your problem is someone else's solution."
I encourage you to check out the interview series to learn from people's stories like Jennifer's and mine, and see what kinds of natural health and wellness tips, tricks and inspiration you can pick up to help you along your health journey.
Register for and get access to the Demystifying Health & Wellness Interview Series here!