Blow up your biz in 2023 [start now]
I'll never forget the day I put my notice in at my last corporate job and finally made the leap into a Functional Health Practitioner entrepreneurship.
There was a huge sigh of relief, a wave of anxiety, and excitement all at once.
Relief for never having to answer to anyone else but myself again.
Relief for all of the time and travel freedom.
Anxiety around all of the financial responsibilities of running a business.
Anxiety about getting it wrong and looking like a fraud.
Excitement about all the endless possibilities that were in front of me.
Excitement for getting to do things on my terms and helping hundreds of people heal.
But a business isn't built overnight, or even within a week or a month.  It takes time, and anyone who tells you differently is selling a pipe dream.
However, when you keep putting one foot in front of the other, before you know it you've climbed a mountain and the views from the top are extraordinary.
Over time, I've built a wildly successful multiple six-figure business by surrounding myself with next-level people, setting goals, and taking consistent action.
You can only see progress in what you track.
Every quarter I sit down and outline my BIG business goal for the next 3 months, and then identify specific steps or actions to take each month in order to work towards that goal.
This is how I went from 19 to 36 clients in 2 months and on average I've worked with 30+ health clients at a time. Needless to say, my practice has been full.
My revenue has increased by 30% or more year-over-year. I work less than 40 hours a week and on average, I take 64 days of vacation a year.
So this week I want to challenge you to think about your BIG BUSINESS VISION FOR 2023.
Because NOW is the time to start working on it.
When January hits, what do you want to be…
Feeling about your business?
Experiencing in your business?
Doing or not doing in your business?
And to help you get there, I've got a special webinar training coming up for you on December 12th at 4pm PT / 7pm ET.
Over 8 years ago, the universe magically brought Michelle Bell into my life.  She took my big business vision, automated it, and helped me make my dream life a reality.  Her automation knowledge and expertise have been a HUGE part of creating the wildly successful brand and functional health practice I have today.
Since then, we have combined forces to create proven business trainings and systems tailored to meet the unique needs of Functional Health Practitioners just like YOU.
And now we are sharing our health business wisdom with you in a special webinar training event…
How To Grow Your Online Health Business like a BOSS in 2023
In this webinar on December 12th at 4pm PT / 7pm ET you will learn:
The 3 essential elements every health business needs for success

A comprehensive approach to building, pricing, and selling packages

The ideal step-by-step solution for a 6-figure business that serves more clients efficiently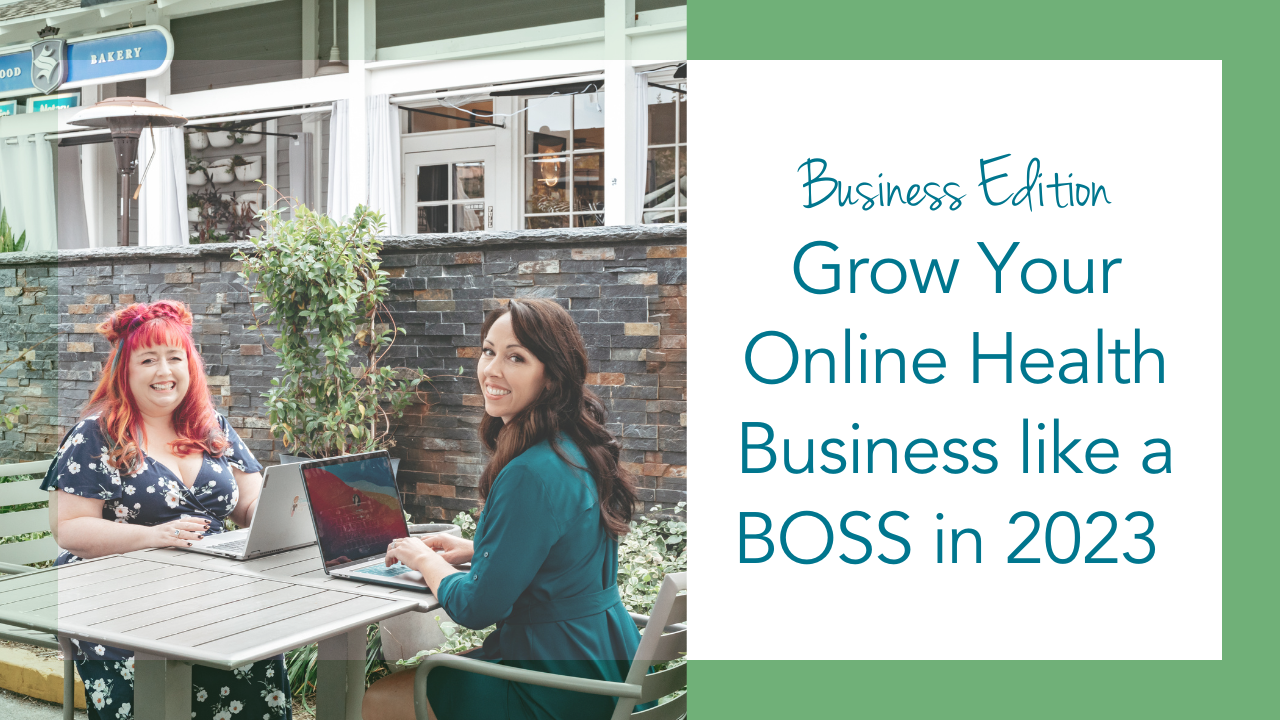 Are you ready to become a more LEGIT Health Business Boss in 2023?
It's time to start thinking about your business goals for 2023.  You've got 1 month to put things in motion and you'll get exactly what you need to make them happen when you attend the How To Grow Your Online Health Business like a BOSS in 2023 webinar.
We're literally going to walk you through the exact steps I took to create my health business success, and the same ones we've taken hundreds of other practitioners through to create successful businesses too.