What Trust has to do with growth…
Trust…
…is at an all-time low among potential clients. And it's no surprise why either. 
People are confused; aware that they need change, but don't know who to trust.
I mean, the sheer number of choices that are now available just a Google search away… is staggering.
Fortunately, there's ONE proven strategy that fundamentally changed the trajectory of my mentor, JJ Virgin's, career and mine that can change the trajectory of your career, too.
It's becoming the trusted authority in your niche or market.
Now – I'm not talking about manufacturing trust by exaggerating your skills or education. People who do that should be banned from the industry. 
Becoming the trusted authority in your market and niche (whether local, national, or global) is about clearly communicating who you serve, the results you provide, and the way you do it that genuinely connects with an audience –  something JJ, the Mindshare Community, and I have been doing for over 10 years.
Mindshare Collaborative is pretty much known as the place you go to become a New York Times best-selling author, get your own PBS Special, or land major media appearances on radio and TV.
But what many people don't know is that JJ and Mindshare Business Coaches like me have also been helping accredited health professionals become the trusted authority in their local markets – helping them work less, earn more, and finally enjoy the life they dreamed of.
Because when you are the trusted authority, your ideal client finds you.
JJ is what I call the ultimate "go-giver". She's helped health pros land on some of the biggest nationally syndicated TV shows (The Doctors, Dr. Oz, Steve Harvey, Good Morning America) and secure lucrative book deals.
Fun fact: Over the last 7 years, Mindshare Members have earned an estimated $70 Million in Publishing book advances –  before the author writes the first page!
Plus, there are all the summits, events, and launches that members of the Mindshare Community collaborate on. It's a one-of-a-kind community! 
Last year, their online Health Business Growth Conference was one of the most talked-about events for health professionals.  
Another fun fact: To keep it interesting, they always give away amazing prizes each day – just for showing up! This year's grand prize – a complete, professional, home studio makeover worth thousands! You'll look like your videos were made for TV when you upgrade to pro lighting, pro camera (yes, a professional Sony camera with a professional lens), pro mic, and pro audio board – are all included.
Over 1,000 people got tickets to last year's event, and each paid $397 or more to attend. 
To nobody's surprise, JJ and Karl offered a 10X money-back guarantee. If you attended and didn't see a path to getting 10X the value of the ticket, they would refund your full ticket price – no questions asked.
Of course, no one asked. The event was incredible. Jack Canfield, Vishen Lakihani, Dr. David Perlmutter, JJ, Karl, and the Mindshare Business Coaching Team (me!) all over-delivered.
It was so good that I wanted to make sure you got to attend this year – and that you'd have zero excuses to attend. So I asked JJ and Karl if they would do me a solid and provide my community (that's you) with discounted passes I could freely share. Call them "Golden Tickets."
And, in true Mindshare form, they over-delivered – with a handful of passes that get you your $397 ticket for $1 (Yeah, you'll need to come out of pocket $1 – but that's to ensure there are no shenanigans and real humans are registering).
What could investing this $1 mean for you? It could mean: 
Discovering your real purpose as a health pro

. What you were meant to do on this planet – your unique ability

Nail your niche, and your expert positioning.

So that you become the trusted authority in your market.

Meeting your next business partner, collaborator, or friend

. Mindshare has pretty much become the hub of friendships in health – their events and parties are legendary
Cracking the code to work less, earn more, and finally live the life you dreamed of.
But only if you attend.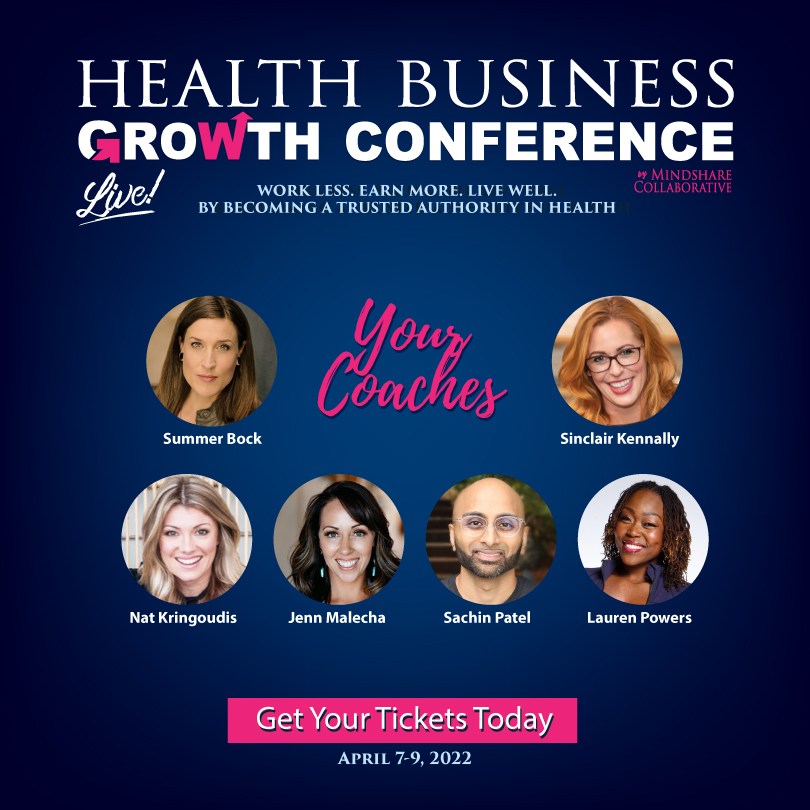 I meet so many health professionals who want an easier way to get clients. There are those who dream of one day having more time to enjoy life instead of being stressed out over their business, but they don't take the time to invest in themselves by disconnecting for a day or two and discovering what's possible.
So, here's the deal.
To get your ticket for just $1, you'll need to:
Visit this link

before all my discount codes are gone

Register (It's just $1 after you enter the

promo code HBGCVIP.

If you can't afford that, you need this more than anyone)

Attend April 7-9th. (It's online, so there's no need to travel. Just create some "ME" time to attend. You can invite your staff too!)
I'll be there too, providing Business Coaching on the spot, and because I never miss a Mindshare Event! 
They're always amazing – and this is no different! It is the only one you can attend online this year. (People pay $5,000 to attend their annual leadership summit in Scottsdale each year – epic for sure and the place to be to make amazing connections). 
But, for this event only, and until my coupons are gone – you can attend for $1.
So, my question for you is… 
Will you make the time?
Is becoming a trusted authority in your market or niche worth blocking off a few days and focusing your attention on THE ONE THING that will help you transform your business into the life-saving, money-making machine you wish it was?
When I count up the hours I spent spinning my wheels on my business, I now prioritize this 4-day event by letting my whole family and team know that I'm not available and to please have my meals delivered to my office door. (True story!) 
Reserve your ticket, clear your calendar, and join JJ and me on April 7-9th.
See you there!

P.S. There are a limited number of $1 Passes. When you CLICK HERE and use promo code HBGCVIP and the price stays at $397 at checkout, that means all my passes were used – sorry! On the other hand, the conference is worth 40X the price 😉