Let's try something new together…
How often do you hear or say the phrase… "it must be a millennial thing"?
Whether you're a millennial or not, your health has been impacted by the technology and social advancements of the millennial age.
Let me ask you a few questions…
Would you like to do more faster, with more peace?
Would you like to have the time to actually accomplish all the things you want to do?
Would you like to have the energy to jump out of bed, EXCITED for the day ahead?
If you said yes to any of these then you're suffering from the impacts of the millennial age, even if you aren't a millennial, and there's a very important person you need to meet.
Let me introduce you to a passionate powerhouse, Mia Christina Sarno, who is driven to change the way millennials, and those of us impacted by the millennial age, prioritize our health.
She started Firewave Wellness, a digital platform for healing, vitality, and holistic health and I totally resonate with the movement… she's supporting people around the world in decreasing stressful habits and transforming their mindset around health to make being productive (while maintaining health) easier.
You see, Mia also experience burnout, just like I did, as a result of trying to "do it all" – getting good grades, climbing the career ladder, being strong for others and striving for the ideal body.
We both recognize how the mode of the millennial age can drive people like you and me into health catastrophes.
This summer, Mia and I collaborated to provide you with super fast and simple tips to help you keep your health at the forefront while pursuing success in your career and peak performance in your life.
As you know, I want to support you and provide valuable insight whenever I can.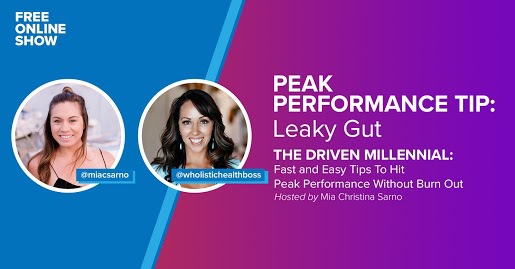 Mia has started a new show, The Driven Millennial: Fast and Easy Tips for Peak Performance without Burn Out, where I and other health experts get to share our stories and passion for health in a unique format that will encourage your heart and leave you with real TOOLS FOR HEALTH.
So let me ask you…
What would it be worth for you to get better performance in your career, family, life? Even 1 take-away can change the way you perceive health.It's that easy.
You can get access to the Fast and Easy Tips for Peak Performance Without Burnout show here
You can do all the diet and exercising in the world, but if you're still operating from a millennial state of mind, as we all are guilty of doing sometimes, then getting results and improving your health will be harder than you'd like.
Just hit the easy button and listen to the tips that Mia and I have collaborated on for you 🙂