Practitioners Business Essentials

GET ORGANIZED AND GROW YOUR CONFIDENCE TO GET YOUR BUSINESS GOING OR GROWING!
Without feeling overwhelmed with all that technology mumbo-jumbo.  
It's time to ditch the distractions, focus on the essentials and get down to business.
Invest in yourself and your business. It's worth it!
Total Program Value $3,995 – BUT you pay only…  
2 payments of $989.50 !!!
Or Save $50 when you pay in full
---
Here's what I know from starting my own business and mentoring thousands of other Functional Health Practitioners in getting their businesses going and growing…
You only needed 3 things to build your clientele and a 6-figure business…
An understanding of what makes you unique as a Functional Health Practitioner
How to use your unique approach to attract the right clients and provide the solutions they are looking for
And 2-3 one-on-one high-ticket program options to meet your client's needs and your monthly financial goals
You've likely been spinning your wheels in overwhelm focusing on…
Setting up a website with all the bells and whistles
Trying to figure out how the 'F to get clients from Facebook, Instagram, or paid advertising
Creating a social media presence, podcast, YouTube channel or book to get clients
Signing up for every summit, webinar, podcast, course etc. pertaining to lab testing, supplements, conditions, business and marketing skills instead of just getting down to business
All you're really doing is wasting time and putting off working on your business because you just don't know where to start or how to rewind and redo what you've already created.
All you really want is…
A simplified road map to building your client base, packages, make money, and market yourself in a way that feels authentic but doesn't require a lot of effort or technology
Turn-key materials and scripts to help you get organized and have confidence in your enrollment calls, sessions, and marketing efforts
To create powerful programs that positively impact people's health without draining your energy or your time so you can heal more people while feeling like your best self
Sure, one day having a fancy website, a big social media presence, running group programs and Facebook Ads might be part of what you do (or maybe they are now), but every business needs a foundation to stand on, and there are key essential elements to create that foundation.
You have to be clear on who your ideal client and audience is
You need to know what problems you solve and what solutions you provide
You need to have something to sell potential clients that meets their unique needs
You have to build rapport and deliver exceptional customer service to retain clients and receive referrals or testimonials so your business can grow
That's it! This is all you need to build a business, make tons of money and still have the life that you dream of!
What I believe…
If you share your story relentlessly you will attract the right clients for you
You don't have to work 40 + hrs per week to make 6-figures or more
In freedom – what's the point in owning your own business if it's running you and your health into the ground?
That building rapport and providing stellar customer service is selling without having to sell and will keep the referral train rolling
This is why I created the Practitioners' Business Essentials Program.
Because I've been in the thick of the overwhelm and had to prioritize what actions would get me the most results for my time invested to get my business off the ground (and I continued to do this to grow it exponentially every year!). Because I've tried and tested a lot of different approaches and packages to figure out what works and what doesn't. Because I invested in all of the programs (none of which met my unique needs as a Functional Health Practitioner), became overloaded with too many things to focus on and had to pick out the most important parts to make back what I invested.
And because I finally figured out that I had to let go of what everyone was telling me I should be doing (or the voice in my head that was comparing myself to what others were doing), and that's when I finally figured out what I really needed to do to create the confidence and structure in my business to deliver powerful coaching programs while creating the freedom in my business that I longed for.
I've been there and done all of that so you don't have to.
In the Practitioners' Business Essentials course, I carefully hand-picked and packaged up the actions I took that gave me the biggest bang-for-my-buck in regards to my time and effort in order to build my client base and get my business going and growing so you can fast-track your success like these program participants…
---

Invest in yourself and your business. It's worth it!
Total Program Value $3,995 – BUT you pay only…  
2 payments of $989.50 !!!
Or Save $50 when you pay in full
---
What took me months or years to learn, you can now learn in a matter of 4 weeks!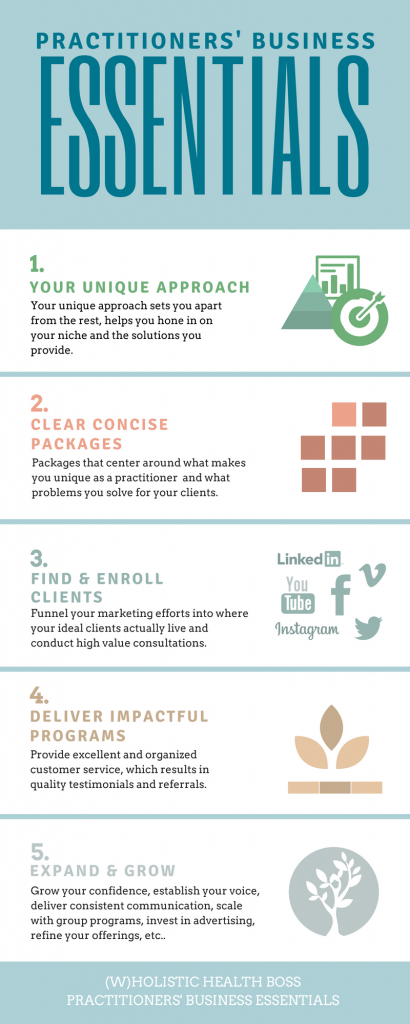 Module 1
In this module, you will gain an understanding of what makes you unique as a Functional Health Practitioner in a non-traditional approach to discovering your niche as you connect with your own personal story. As Functional Health Practitioners "we don't treat anything specifically, we treat everything non-specifically" as Reed Davis says, making it hard to zero in on a specific condition or demographic sometimes as a niche. The traditional approach to niching usually leaves us feeling as though we are leaving someone out or cutting ourselves off from potential clients.  You'll learn how to use your unique experience and areas of expertise to capture the ideal clients you want and you will define exactly how you help them in 3-5 transformational statements that communicate the value of your work clearly.
Module 2
One of the essential keys to having a business is having something to sell.  In this module, you will get crystal clear on what your service offerings or packages should look like based upon what makes you unique as a Health Professional, what problems you solve, and the solutions you provide for your clients.  You will create 2-3 high-ticket packages offerings with price ranges that meet your monthly financial needs as well as your ideal client's health needs.
Module 3
Now you know the value of what you bring to the table and you have something to sell. It's time to start selling!  In this module, you'll figure out where to find your ideal clients and where you should focus your marketing efforts based on who they are and where they spend their time looking for information.  Social media isn't for everyone but neither are in-person lectures, let's see what fits your unique approach and ideal client best so you aren't spinning your wheels and wasting your time.  You'll also get an inside look at how to conduct a high-value consultation that results in the potential client asking you how they can enroll instead of you having to ask them, making the money topic a non-issue!
Module 4
Great, now you have clients but what the 'F do you do next?  In this module, you'll learn to streamline your client onboarding process. You'll receive done-for-you handouts and scripts so you know what to actually say when you're in a session, and learn how to overcome self-sabotaging objections with key phrases that create powerful realizations.  You'll also receive best practices on how to organize your time and how to prioritize your business aspects for you to deliver high-quality customer service that sells for you with referrals while making time to work on expanding your business and marketing reach.
---

---
---
 
"Absolute, hands down a no brainer! It's literally worth every single penny, in fact, I'd pay double. No joke. Jenn has put together such a top-notch program to launch my business that I will forever be grateful for. It's genius!"
– Stephanie J.
---
 
"I find that working with Jenn helps me to address specific actions I need to be taking. Working on 3 goals at a time, getting reassurance that I'm on the right track and positive reinforcement is exactly what I needed. The templates are very helpful too, and take some of the panic away!" – Wynne H.
---

"I really appreciated learning about how to market packages instead of just single labs every time and how to structure your coaching sessions along with each package. I feel like I have a good grasp on the business side of things and how to sign someone up to work with me from a complimentary discovery session."- Angelique L.
---

"Before participating in the Business Essentials program, I was lost in the ether of how best to offer my services and structure my packages. Jenn taught me a consolidated approach to best serve my clients in and outside of coaching sessions. The level of support offered by Jenn and the rest of her coaching students has given me the confidence to be firm in my business and the specificity of content and practical exercises have made the difference" – John P.
---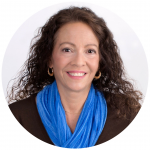 "Being pulled in many directions and having to do this alone was the most frustrating part of starting my functional health coaching business. In the brief time that we worked together, you were a TREMENDOUS help! Your pricing/packages really got me "unstuck" and you also helped me lay out the process to work with clients in an organized way" – Vincine F.
---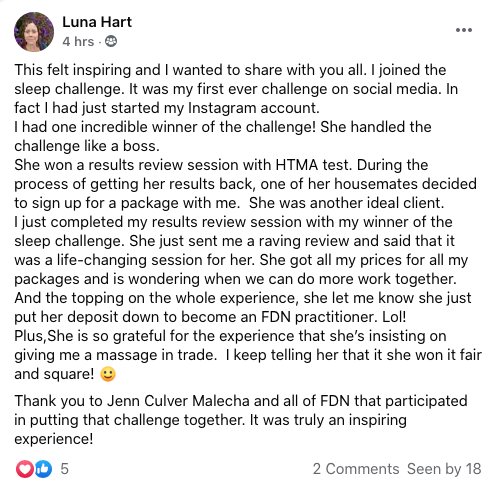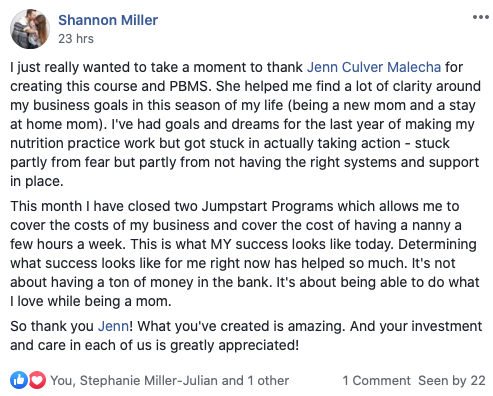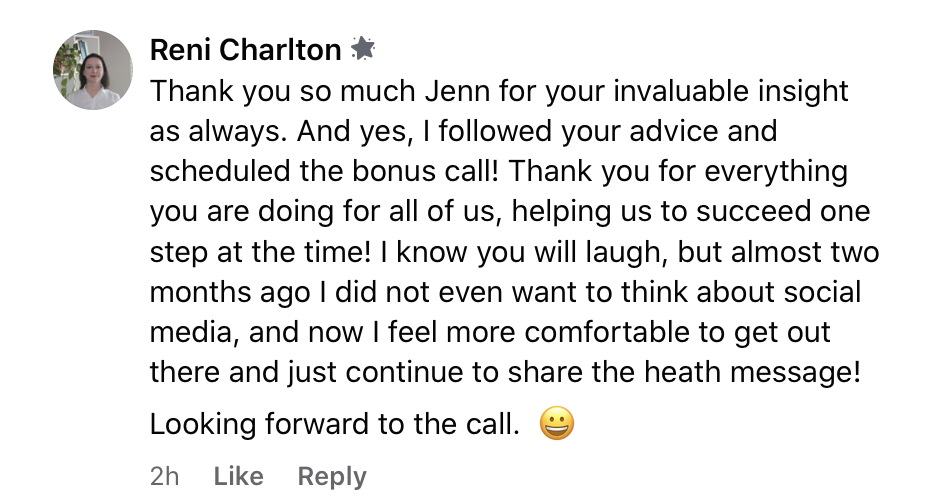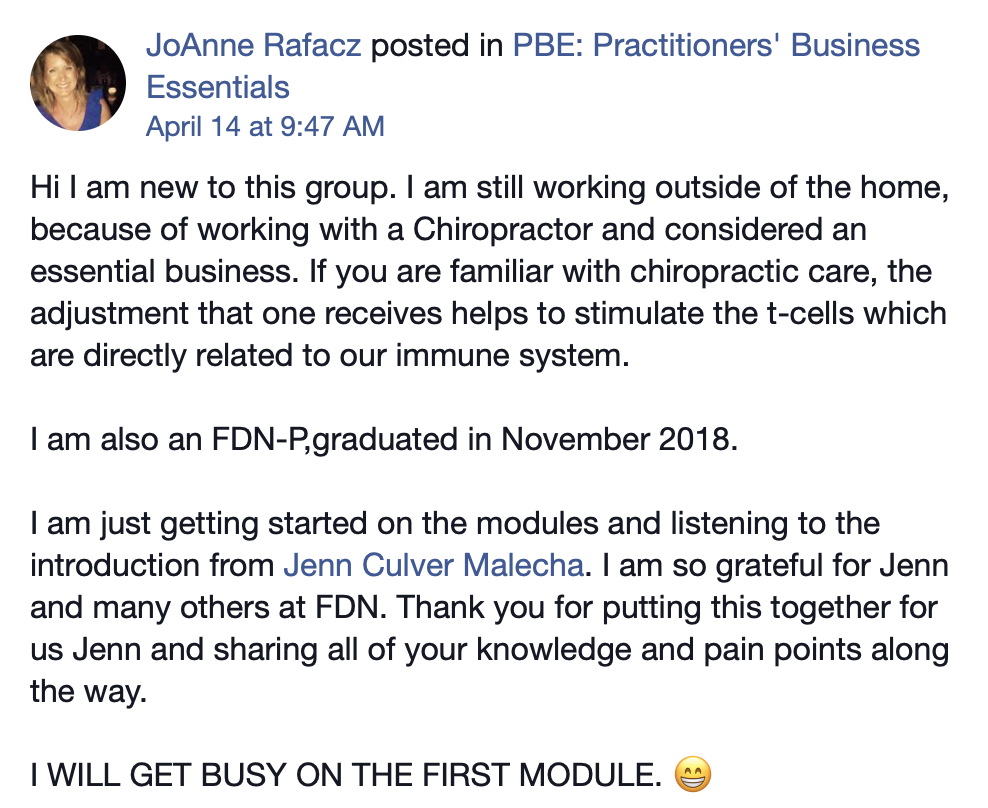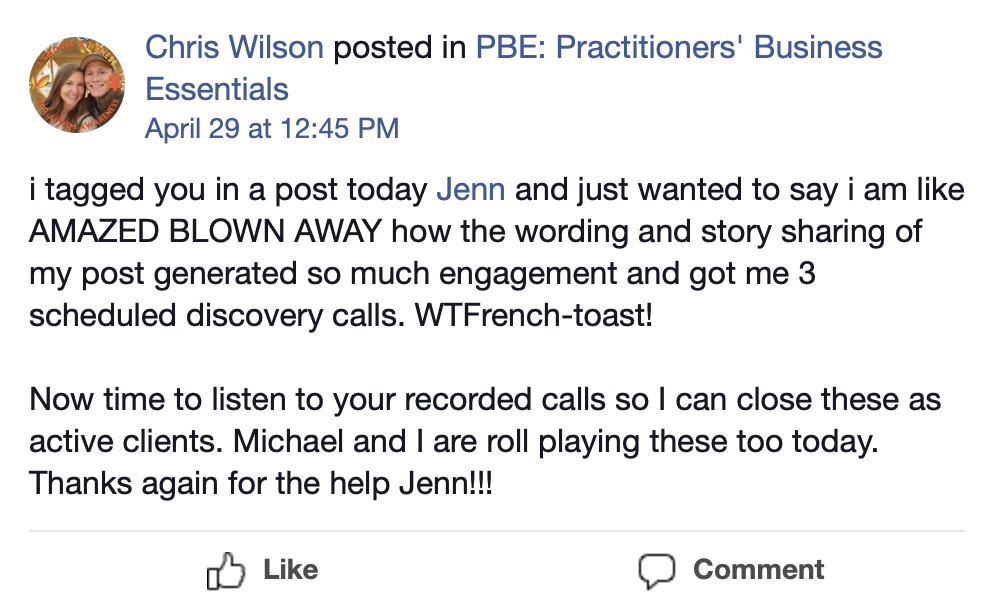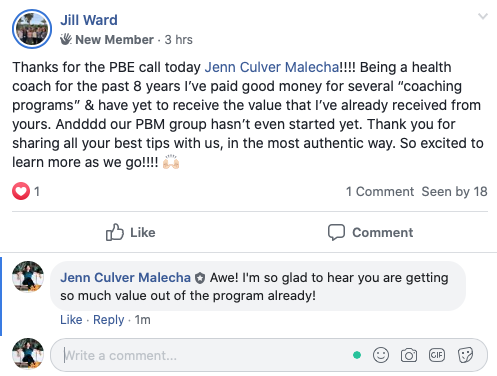 ---
This program is perfect for you if …
You're currently training to be a Functional Health Professional or recent graduate who doesn't want to re-invent the wheel and wants a roadmap to success
You've been a Functional Health Professional for a while and want to refine your strategy to grow business
You want a business mentor and program that understands the Functional Health Professional model
You want to make being a Functional Health Professional a career that will last a lifetime
You want to be prosperous, authentic in your work, and create freedom in your life
This program is NOT for you if…
You aren't serious about a career as a Functional Health Professional
You don't want to actually have to take action
You want to just pay someone to do it for you
---

Invest in yourself and your business. It's worth it!
Total Program Value $3,995 – BUT you pay only…  
2 payments of $989.50 !!!
Or Save $50 when you pay in full
---
 Building a business is a journey, just like the road to health. It doesn't happen overnight, but it is possible.
I've been in practice since 2014. At one point I went from 19 to 36 clients in 2 months and on average I've worked with 30+ clients at a time. Needless to say, my practice has been full. My revenue has increased by 30% or more year-over-year. I work less than 40 hours a week, on average take 64 days of vacation a year and 10 trips.
I've accomplished all of this by doing the things I'm going to teach you in the Practitioners' Business Essentials Course.
---

Invest in yourself and your business. It's worth it!
Total Program Value $3,995 – BUT you pay only…  
2 payments of $989.50 !!!
Or Save $50 when you pay in full
---
Is There A Guarantee?
The Practitioners' Business Essentials is an invitation to listen, learn, grow, and transform your business. I thought long and hard about whether or not to offer a "5-day money-back guarantee" or some other sort of refund policy.
It didn't feel right to offer one, but in the online learning world, it's all but unexpected.  I asked a lot of questions about this and finally recognized it as an opportunity to provide a conscious teaching – right here in your decision-making process.
When you're all in, you're all in.  This experience will most likely challenge you.  It will stir up resistance around your business.  It will flow through phases of excitement, fear, clarity, and difficulty.  Often the biggest breakthroughs come just after the greatest resistance.  By denying you an escape route when things get tough, I hope to encourage you to work through the tough spots.
I'm inviting you to be an active co-creator in this experience, to trust the process, and commit yourself to grow your business. I want to support you in this world of entrepreneurship that is full of adventurers, and I know the warmest welcomes come when you show up fully, right from day one, knowing this is where you want to be (even if it feels scary and like a big change).
If you invest in this program and truly find yourself needing an escape route for a valid reason, you can request a full refund minus a non-refundable $250 registration fee within 14 days of your purchase date AND as long as you have not progressed beyond Module 1.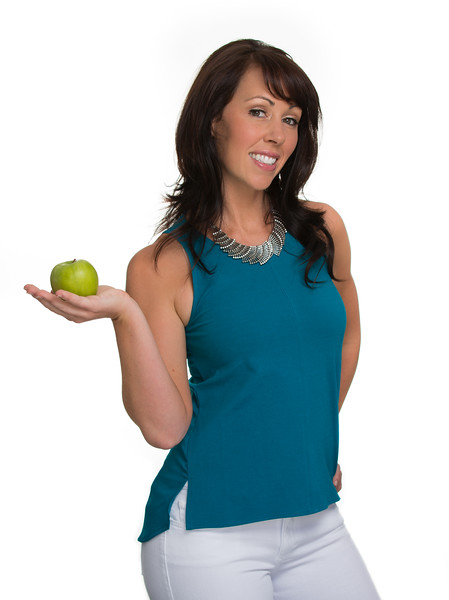 Sincerely,

Functional Diagnostic Nutrition® Practitioner |  Transformational Coach | Business Mentor