Your 2023 business plan [now available]
Typically it takes a catastrophic event to motivate a person to do something about their health.
Something like a…
Diagnosis
Stroke
Heart attack
Or near-death experience
But the recent pandemic has created a global catastrophic event, triggering people to question their health status.  Even people who consider themselves healthy are wondering if they are as healthy as they think and what more they could be doing.
Along with this, distrust in the current standard of care has grown.  People are basically questioning the status quo.
As a result, this is YOUR time to shine!
Now more than ever, people are searching for functional health practitioners who can provide a more personalized health approach and help them virtually.
Sure, when the pandemic hit in March of 2020, my business slowed down a bit, but by August, it was booming with an influx of inquiries that haven't stopped.
In fact, I've had to turn on my waiting list and refer people to the practitioners who have done my business programs because I know they will receive the best customer service in those practitioners' hands from the training I've given them.
The global wellness economy was estimated to be $4.4 trillion in 2020 by the Global Wellness Institute, with some of the largest portions being in the areas that we work in:
Healthy eating, Nutrition & Weight Loss – $946b

Traditional and Complementary Medicine – $413b

Public Health, Prevention & Personalized Medicine – $375b

Mental Wellness – $131b
And each of these areas is expected to grow anywhere from 5 to 9.8% between now and 2025.
Are you ready to handle all of the clients coming your way next year and beyond?
One of the biggest downfalls I see functional health practitioners deal with is too much to do and not enough time; which leads to burnout, clients falling through the cracks, and missed enrollment opportunities.
They get bogged down with all the tasks related to marketing, onboarding clients, and keeping track of them through their program.
These things keep them playing small – is this happening to you or is it going to?
Is your mind spinning about…
Marketing yourself on social media but not getting engagement?
Spending time sending emails and setting up intake forms?
Keeping track of received test results and a client's next steps?
Feeling spread thin or pulled in different directions trying to get your business going or growing?
If you don't have a roadmap and the right gear in place, you'll lose out on this epic time in history to grow and scale your business.
But don't worry, I've got your back.
I truly want to see you succeed as a Functional Health Practitioner because when you're helping more people improve their health, collectively we get to have a greater impact on the world.
So I'm giving you limited-time access to the training replay as a special gift this holiday season so you can make your 2023 business dreams come true!
In the training replay, Michelle Bell and I teach you…
The 3 essential elements every health business needs for success

A comprehensive approach to building, pricing, and selling packages

The ideal step-by-step solution for a 6-figure business that serves more clients efficiently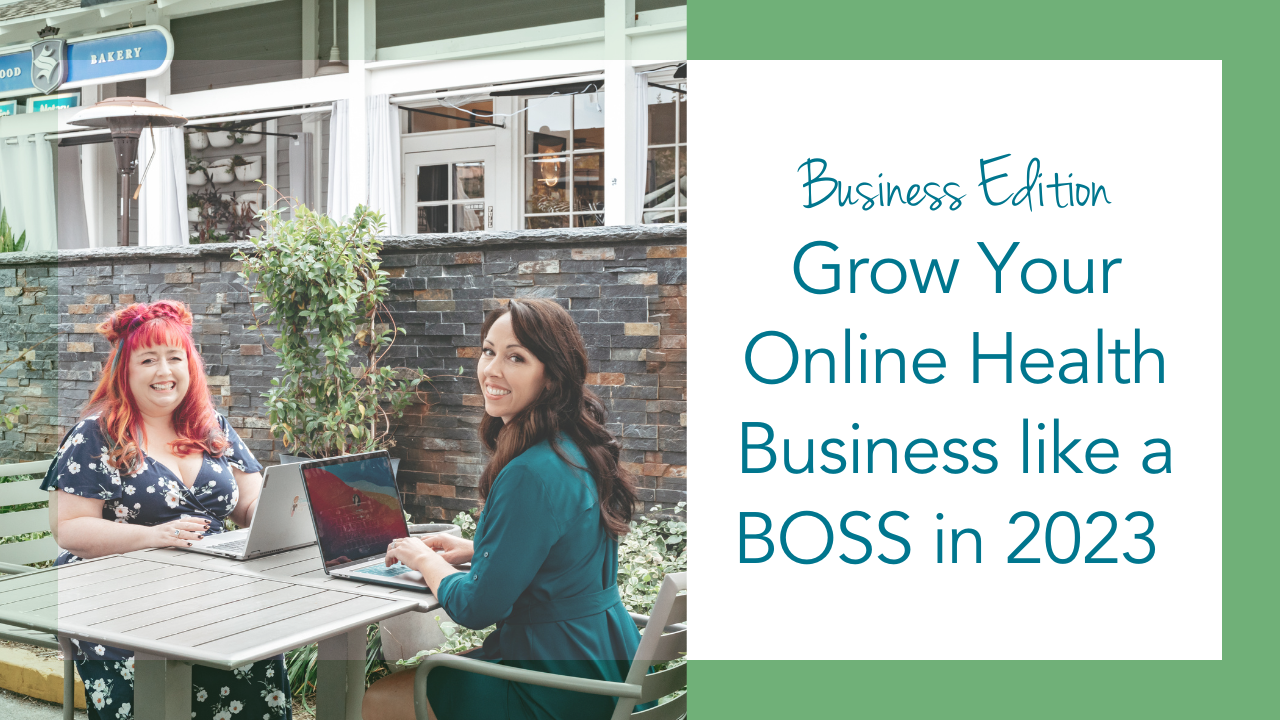 As you watch the training replay, here are some really important time stamps to look for:
26:44 – Essential Element #1

41:17 – Essential Element #2

1:00 – Essential Element #3 (this one is the doozy that trips up every practitioner!)

1:15 – Business success assessment
When you get to the business success assessment mark, I want you to be honest with yourself.
And if you find yourself needing help to effectively implement the 3 essential elements, then in the replay I also share another special gift for how we can work together to ensure those business dreams of yours come true in 2023.
Are you ready to service clients in a way that not only gets results but allows you to work less while helping more people?
Click here to watch the recent training replay so you can learn how to do exactly that in 2023!