Getting to the root gets results…
It is so fascinating that all diseases, health issues, and conditions such as weight gain, thyroid imbalances, adrenal fatigue, low energy, high cholesterol, cancer, Alzheimer's, brain fog, and more have one thing in common.
INFLAMMATION.
Inflammation is the root of all diseases.  It slowly and silently brings people to their wit's end about their health, and can even kill.
"The presence of inflammation is what makes most diseases perceptible to an individual. It can and often does occur for years before it exists at levels sufficient to be apparent or clinically significant. How long it has been smoldering really determines the degree of severity of a disease and often the prognosis assuming the inflammation can be controlled. One could also argue that without inflammation, most diseases would not even exist." – Dr. Mercola
Inflammation is not something widely talked about in your typical doctor's office unless it relates to a fractured bone, bruise, concussion, or other physical injuries.  Yet inflammation is the body's number one response to any kind of invader in the body (viruses, colds, flu, gut bugs, mold, heavy metals, etc.) and a signal that something just isn't right!
What's challenging is that dangerous inflammation can not always be seen, felt, or heard so it often goes undetected and overlooked.
There are two kinds of inflammation:
Acute – a brief response to injury or illness lasting only a few days

Chronic- when it stops being acute and remains as a low level constant response to ongoing stress on the body
Acute inflammation is a healthy response that allows your body to repair and heal, but when it becomes chronic is when it becomes problematic.
Chronic inflammation is when your body is so overwhelmed by the causes of inflammation that it loses its ability to turn off the inflammatory response.  This overly active inflammatory response leads to damaged tissue, resulting in conditions such as leaky gut, autoimmunity, heart disease, arthritis, Alzheimer's, and much more.
In addition, your cortisol hormone (also known as your stress hormone) is your body's natural anti-inflammatory agent. When inflammation is high and chronic, this disrupts the natural cortisol balance triggering a domino effect on other hormones such as thyroid, estrogen, progesterone, and testosterone which disrupt your sleep, cause weight gain and drain your energy.
But the real question is, what is causing inflammation in the body?
Getting to the root causes of inflammation is when you get real results.
Identifying the causes of inflammation in my body is how I finally:
Lost stubborn weight

Got my energy back for good

Regulated my menstrual cycle

Stopped being affected by seasonal allergies

Reversed Hashimotos and healed mold illness
It can be incredibly difficult to find the root causes of chronic health issues.  They sometimes get overlooked by even the best practitioners.
If you're frustrated because you continue to struggle with weight, digestive concerns, autoimmune conditions, inflammation, or chronic illness of any kind… then there's a unique event designed just for you that I'm speaking at.
Not only does this event bring together over 40 of the world's leading experts on hidden root causes, but each day you'll get a new tool to assess how big of an issue these root causes are for you.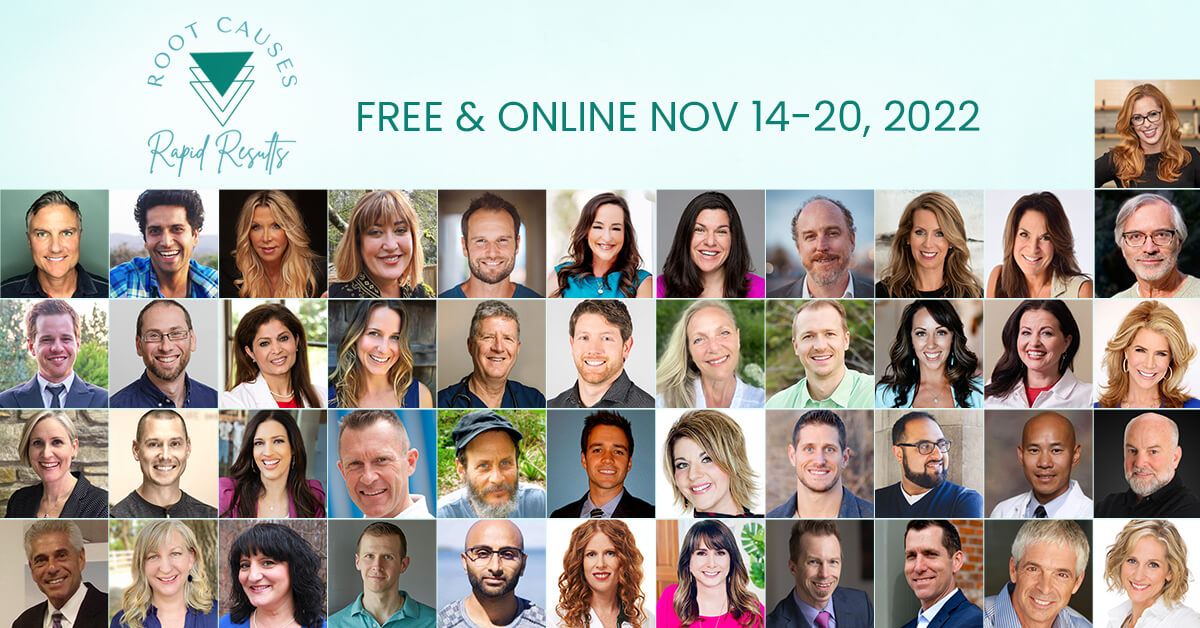 The Root Causes, Rapid Results event could help you:
Determine which root causes could be affecting you personally

Find out which energy drainers you need to remove to increase your energy

Understand which modalities could help you resolve your symptoms for good

And so much more!
Your body is brilliant. And with the right information and action plan, it's never too late to reclaim your health.
Root Causes, Rapid Results is about gathering information, but it's also about taking action.
Click here to register for this unique event!
Be sure to mark your calendar for November 14-20, 2022!
P.S. Event host Sinclair Kennally is a personal friend and colleague who I've hired to resolve some of my own root causes.  She's a survivor of a complex chronic illness herself. After an almost decade-long struggle to overcome her symptoms – without answers from her doctors and after countless hours of research – her partner, Michael Spandel (who was suffering from his own chronic symptoms), was able to identify and remove the toxic stressors from their food, home and work – which led to complete recovery for both of them.
Sinclair is here to share what she learned and help you reclaim your full vitality.
When you register for Root Causes, Rapid Results, you'll also unlock early-access interviews, complimentary guides, and helpful eBooks about living your most resilient life!