Listen to these podcasts now!
I've recently had the honor of being a guest on some extraordinary podcasts with experts who are doing important work so that people like you can access the info you need about health, well-being, and personal self-growth so that you can feel like your best self.
In these podcasts, we've touched on everything from lab testing to mindset, mold, eliminating toxic exposures, effective exercise strategies, figuring out what foods are right for your body, the importance of sleep and so much more!
During the discussions, we share tips, tools, and resources to help you find the missing pieces of your health puzzle so you can fix whatever might be going on with your health, and get back to feeling like your best self again (or for the very first time!).
So this week, instead of my usual blog, I encourage you to catch all the info you can from one or more of my recent podcast appearances!
Check out some of my recent podcast interviews to explore topics such as…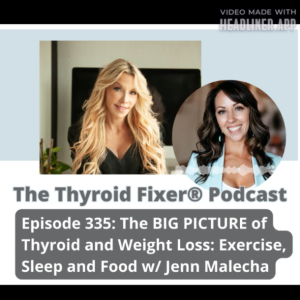 The BIG PICTURE of Thyroid and Weight Loss

with Dr. Amie Hornaman
In this podcast, Dr. Amie Hornaman interviews Jenn Malecha about her personal health journey and her thyroid and weight loss journey too. They dive into conversations and Jenn shares her knowledge with her extensive background. First, Jenn is a powerful woman. She has so much training and so much experience under her belt. This is really one that you are going to want to listen to. Her focus is on supporting health-minded individuals in taking back control of their health.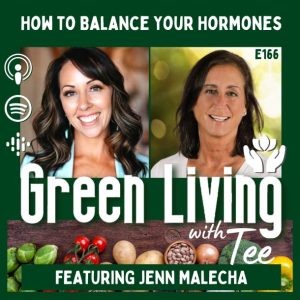 How

to Balance Your Hormones
This week Tee was delighted to welcome Jenn Malecha to the show for an educational look at how fluctuations and changes in our hormones affect everything from our mood to our sleep cycle. Hormonal imbalances are common amongst women in the menopausal years. However, in recent years we have seen a surge in hormone disruptors attributed to an array of both environmental toxins and lifestyle factors. In this episode, Jenn helps to walk listeners through some of the steps that you can take to gain back the balance in your hormones and achieve a healthier happier lifestyle.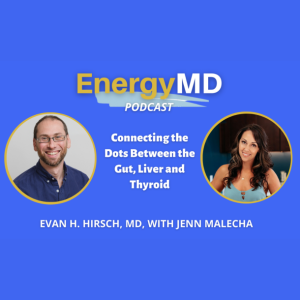 Connecting the Dots Between the Gut, Liver and Thyroid with Jenn Malecha & Evan Hirsch

In this episode, Jenn Malecha together with Evan Hirsch, talk about Connecting the Dots Between the Gut, Liver and Thyroid. Jenn Malecha supports busy, health-minded professionals in taking back control of their health by giving them access to the right lab tests and resources so they can find the missing pieces of their health puzzle, actually fix what is wrong, and get back to feeling like themselves again.
I would love to know what other health-related podcasts have been inspiring and helpful for you too.
Comment below and let me know what some of your recent favorites have been!